Treatment and Resources
RETexpertise
Finding the right doctor (and hospital) can have a crucial effect your health outcomes. Not all doctors - even in oncology - have the same level of expertise or passion. Not all hospitals have the same access to top-notch surgeons and radiation oncologists. Especially for rare cancers like those driven by RET, it is critical that doctors are up-to-date on the latest treatments and developments.
Even if you are receiving care at a Comprehensive Cancer Center, because of the RET's relative rareness, your oncologist may not have significant experience taking care of RET+ patients.
It's always ok to ask your doctor how many RET patients they have cared for and whether you would benefit from a second opinion with a RET expert.
Oncologists with less RET experience can still provide excellent care. Often they can reach out to RET specialists for questions without requiring you to travel.

The following is a list of RET experts with experience caring for RET+ patients and active engagement with the latest RET-related research. As a benefit of seeing doctors on this list, you will not only receive the latest and best care research can provide, but these locations are more likely to have RET-relevant clinical trials. Often just by being a patient, your care will help doctors familiar with RET help advance the science.
RETexperts: Oncologists Specializing in RET-Fusion Cancer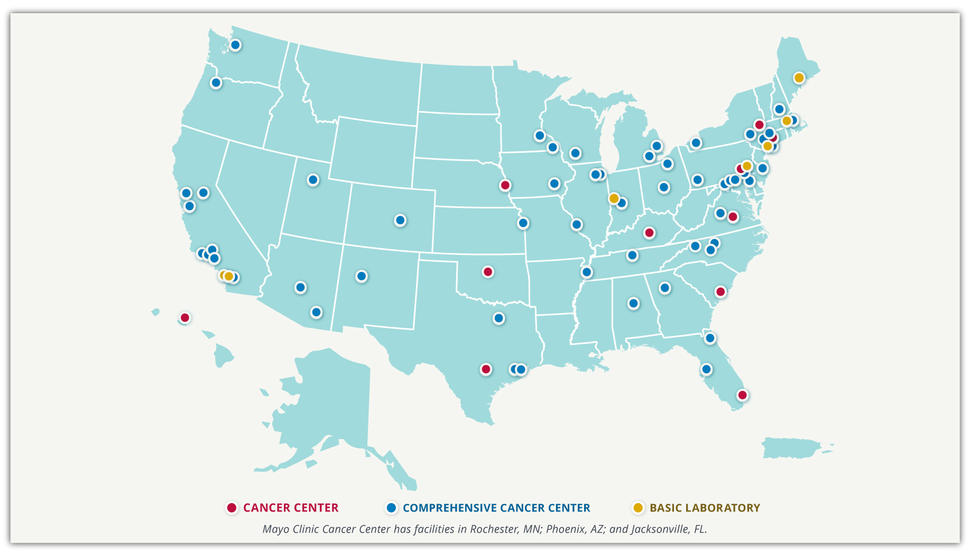 NCI-Designated Comprehensive Cancer Centers
RET-altered cancers are considered to be rare cancers. We believe it is important to receive care or a second opinion at a high-capacity cancer center. In the United States, these are the National Cancer Institute-designated Comprehensive Cancer Centers. These centers meet rigorous standards for transdisciplinary, state-of-the-art research focused on developing new and better approaches to preventing, diagnosing, and treating cancer.
Different terms may be used in other countries. What is critical is institutional access to the latest research and expertise needed to provide the best care possible.
Learn More
RET-positive Lung Cancer Treatment
Surgery and/or Radiation
After initial diagnosis with lung cancer, the next step is a series of imaging tests to stage your cancer, which designates how far your cancer has spread. Because lung cancer often spreads quickly and silently before the patient may even experience any symptoms, these staging exams usually include a brain MRI with contrast, and a contrast-enhanced CT of the chest, abdomen and pelvis, or, alternatively, a PET scan.
If your cancer is relatively localized, you may be a candidate for surgery. If your cancer has spread to other organs outside of the lungs such as the brain, liver or bones, surgery is generally not an option and your doctor will talk to you about medications to treat your cancer and, in some cases, the possibility of radiation.
Medications
Tyrosine Kinase Inhibitors

Although RET fusions were first identified in lung cancer in 2012, it was not until 2017 that clinical trials first opened for two dedicated RET-targeting tyrosine kinase inhibitors (or TKIs): Selpercatinib and Pralsetinib. These drugs are taken as daily oral medications and specifically target the abnormal protein produced secondary to the RET "driver" mutation, essentially controlling the cancer's "on-off'" switch. In clinical trials, these drugs demonstrated such rapid and durable anti-tumor activity, that the FDA granted fast-track approval for both drugs for the treatment of NSCLC and certain thyroid cancers in 2020. In 2022, Retevmo was further FDA-approved for the treatment all RET-driven cancers, regardless of tissue of origin.

Dr. Jessica J. Lin from Massachusetts General Hospital talks about some of the challenges of prior efforts to target RET in lung cancer patients and the recently approved highly potent, and selective RET TKIs - Pralsetinib and Selpercatinib.

Selpercatinib (Retevmo)

Accelerated approval of Selpercatinib (Retevmo) was based on the ongoing phase 1/2 Libretto trial. Of 144 patients with RET-fusion advanced NSCLC who received Selpercatinib, 105 patients previously treated with systemic chemotherapy had an objective response rate of 64%, and 39 patients previously untreated (ie, "treatment naive"), the objective response rate was 85%(1).

Pralsetinib (Gavreto)

Accelerated approval for Pralsetinib (Gavreto) was based on the ongoing phase 1/2 Arrow trial, in which 87 pre-treated patients had an overall response rate of 57% and 27 treatment-naive patients had an overall response rate of 70%.(2)
Both Selpercatinib and Pralsetinib continued to make headlines at the American Society of Clinical Oncology conference in June 2021, with updates to both of their landmark Libretto and Arrow trials. Click here to read more.
Although these drugs are not without side effects, but, overall, both Selpercatinib and Pralsetinib are much more tolerable and associated with fewer and less toxic side effects than systemic chemotherapy. Your doctor will monitor your bloodwork to make sure there is no sign of stress to your liver or kidneys.
Resistance
Although these recently-approved RET TKIs have transformed the lives of many RET positive patients, eventually the cancer will develop resistance in most patients, progressing again. This is why RET-specific medical research is vital. RET patients are counting on the development of new medications to overcome these resistance mechanisms and, some day, make RET-positive cancer a chronic disease that can be controlled with life-long daily medication.
Currently there are multiple clinical trials evaluating the efficacy of second-generation RET TKIs in patients who have progressed on first-line RET TKIs.
Collapsible content
References

1. Drilon A, Oxnard GR, Tan DSW, et al. Efficacy of selpercatinib in RET fusion–positive non–small-cell lung cancer. N Engl J Med. 2020;383(9):813-824. doi:10.1056/NEJMoa2005653

2. Gainor JF, Curigliano G, Kim DW, et al. Registrational dataset from the phase I/II ARROW trial of pralsetinib (BLU-667) in patients (pts) with advanced RET fusion+ non-small cell lung cancer (NSCLC). J Clin Oncol. 2020;38(suppl 15):9515. doi:10.1200/JCO.2020.38.15_suppl.9515
Other Treatment Options
Chemotherapy

Chemotherapy refers to a class of drugs that are usually given intravenously to travel through the bloodstream and reach all (or most) parts of the body to slow or halt the growth of any rapidly dividing cells. Because chemotherapy drugs are not as targeted as the Tyrosine Kinase Inhibitors (TKIs), they are often (but not always) associated with more difficult side effects such as nausea, fatigue and sometimes hair loss.



Usually these drugs are given in combinations of two, although for people who might not tolerate combination chemotherapy well - such as those in poor overall health or those with intolerable side effects - sometimes a single chemotherapy agent may be given.



The systemic chemotherapy agents most commonly used for non-small cell lung cancer (NSCLC) include Carboplatin or Cisplatin (the platinum-based agents), plus Pemetrexed (Alimta). Docetaxel (Taxotere), Paclitaxel (Taxol), Gemcitabine (Gemzar), Vinorelbine (Navelbine) or Etoposide (VP-16) are also sometimes used as second- or third-line agents.

Immunotherapy

Immunotherapy refers to a group of treatments that help a person's own immune system eliminate or control their cancer. This includes the 'Immune Checkpoint Inhibitor' (ICI) or 'Immunomodulator' class of drugs, as well as several other investigational treatments such as vaccines, cytokines, monoclonal antibodies and cellular Car-T cell therapies, all of which are currently being researched for more effective applications.



The first PD-1/PD-L1 ICIs, Nivolumab (Opdivo) and Pembrolizumab (Keytruda), were FDA-approved for NSCLC in 2015. Subsequent FDA ICI approvals include Durvalumab (Imfinzi) (2018), Atezolizumab (Tecentriq) (2020) and Cemiplimab (Libtayo) (2021). These drugs have shown survival benefits over second-line chemotherapy when looking at all patients with advanced NSCLC who have higher PD-L1 expression and higher tumor mutation burden (TMB).



Unfortunately however, subsequent analysis revealed that, overall, a majority of NSCLC patients with specific driver mutations such as EGFR, ALK or RET had little survival benefit with this class of drugs(1,2). Therefore, patients with actionable driver mutations like RET should receive targeted therapies and chemotherapy before considering immunotherapy as a single agent(2.)



This does not mean that a response to this class of drugs is impossible for someone with RET-positive NSCLC - only that it may not be likely. Given the relatively low side effect profile of these immunotherapy agents, however, many centers add Pembrolizumab, Atezolizumab or one of the other checkpoint inhibitors alongside first-line platinum-based chemotherapy, or alongside first-line chemotherapy once progression has occurred with a TKI.
Collapsible content
References

1. Lee CK, Man J, Lord S, Cooper W, Links M, Gebski V, Herbst RS, Gralla RJ, Mok T, Yang JC. Clinical and molecular characteristics associated with survival among patients treated with checkpoint inhibitors for advanced non-small cell lung carcinoma: a systematic review and meta-analysis. JAMA Oncol. 2018;4:210–216.


2. Mazieres J, Drilon A, Gautschi O, et al. Immune checkpoint inhibitors for patients with advanced lung cancer and oncogenic driver alterations: results from the IMMUNOTARGET registry. Annals of Oncology 2019 Aug; 30(8): 1321-1328.
RET-positive Thyroid Cancer Treatment
Both Medullary and Papillary thyroid cancers are predominantly managed surgically and typically require total thyroidectomy and lymph node dissection. (1) While Radioactive iodine therapy is often used in the treatment of advanced papillary thyroid carcinoma, medullary thyroid cancer does not concentrate iodine. Conventional chemotherapy also has limited efficacy in patients with metastatic medullary thyroid cancer.
Single-agent regimens with doxorubicin, dacarbazine, capecitabine and 5-fluorouracil have reported partial response rates of up to 24-29% (2.) Subsequently, a class of 'small molecule', 'multi-kinase' inhibitors were approved for metastatic medullary thyroid carcinoma including Vandetanib in 2010, which targets VEGFR, RET and EGFR, and Cabozantinib in 2012, which targets VEGFR2, MET and RET.  
In a systematic review and meta-analysis of studies looking at the efficacy of Vandetanib in metastatic medullary thyroid cancer found that 0.7% had complete response while 47% of patients had stable disease(3), while Cabozantinib was found to have an overall response rate of 28%.(4) While these agents had modest clinical benefit, their limited success was hampered by suboptimal toxicities resulting from potent inhibition of non-RET kinases.  
In 2020 the FDA approved the first generation selective RET targeting tyrosine kinase inhibitor Selpercatinib (Retevmo) for advanced medullary thyroid cancer, based on the durable efficacy seen in the Libretto-001 trial. In the first 55 patients with RET mutant medullary thyroid cancer who had previously received vandetanib, cabozantinib or both, 69% of patients responded, while among 88 patients who had not previously received vandetanib or cabozantinib, a response to Selpercatinib was seen in 73%.(5)
In 2020 accelerated approval was also granted for Pralsetinib (Gavreto) to treat advanced or metastatic RET-mutant medullary thyroid cancer or RET fusion-positive thyroid cancer based on the ARROW clinical trial, in which 55 patients with advanced or metastatic RET-mutant Medullary Thyroid Cancer who had previously received Cabozantinib or Vandetanib  demonstrated an overall response of 60% while those who were treatment naïve demonstrated an overall response of 66%. (6) The improved efficacy and overall more favorable toxicity profile seen with both of these drugs has transformed the landscape of RET-dependent cancers.(7)
For more information and a comprehensive list of resources for those impacted by Thyroid Cancer of all types, please visit ThyCa.org.
Collapsible content
References

1. Roy M, Chen H, Sippel RS. Current Understanding and Management of Medullary Thyroid Cancer. The Oncologist. Sept 2013; 18 (10): 1093-1100

2. Sippel RS, Kunnimalaiyaan M, Chen H. Current management of medullary thyroid cancer. The Oncologist. 2008; 13: 539– 547.

3. Trimboli P, Castellana M, Virili C, Giorgino F, Efficacy of Vandetinib in Treating locally Advanced or Metastatic Medullary Thyroid Carcinoma According to RECIST Criteria: A Systematic Review and Meta-Analysis. Front Endocrinol. 2018; 9():224

4. Elisei R, Schlumberger MJ, Muller SP, Schoffski P, et al. Cabozantinib in Progressive Medullary Thyroid Cancer. J Clin Oncol. Oct 2013; 31(29):3639-46

5. Wirth Lori J, Sherman E, Robinson B, et al. Efficacy of Selpercatinib in RET-Altered Thyroid Cancers. N Engl J Med. 2020 Aug 27;383(9):825-835.

6. Hu M, Subbiah V, Wirth LJ, et al. Results from the registrational phase I/II ARROW trial of Pralsetinib (BLU-667) in patients with advanced RET mutation-positive medullary thyroid cancer. Annals of Oncology. Sept 2020; 31 (4):S1084.

7 Subbiah V, Yang D, Velcheti V, Drilon A, Meric-Bernstam F. State-of-the-Art Strategies for Targeting RET-Dependent Cancers. J Clin Oncol. 2020 Apr 10;38(11):1209-1221.